Chaimae Ben Acha suggests that we meet in the café of the Cinémathèque de Tanger, formerly the Cinema Rif – an iconic white building that sits like a crown on the tip of Tangier's carnivalesque Grand Socco. She settles into the last booth, tucked away from the clusters of young smokers drawn by WiFi and mint tea sold on credit. Though Ben Acha does not come here to socialise, she thought the Cinémathèque would be an apt venue for our first meeting.
It was here that she was discovered by actor-director Sean Gullette, for the role that sparked the rise of her acting career. While casting for the short film 'Traitors' in 2010, Gullette was losing hope of finding his lead heroine. Upon hearing of his distress, the then projectionist Mohammed Aarouch piped up, 'There's a girl in my theatre troupe, and after you see her, you won't need to see anyone else.'
Sure enough, Gullette describes his first meeting with Ben Acha as 'witnessing magic.' He immediately cast her as Malika – the fearless leader of an all-girl punk band in Tangier. Ben Acha's preparation for the role required her to cut her hair like Joan Jett, enrol in singing lessons and wear combat boots while off-set so as to acquire a rebellious strut. She admits that prior to the filming of 'Traitors', shehad 'nothing to do' with rock music. 'To sing rock 'n' roll, you have to be hard-edged. It's not feminine,' she says.
Following the success of the initial release of 'Traitors' in 2011, Gullette wanted to build on Malika's story. Two years later, the film grew into a feature. For one scene, Ben Acha found herself in Ketama – the heart of Morocco's kif fields – in an atmosphere completely foreign to the sheltered upbringing she had experienced in Tangier. 'I had to learn everything about trafficking kif – how it was prepared, which roads to take to transport it, how the girls that work there live.'
While Ben Acha and the fictional Malika may share the same hometown, they have an entirely different way of living in it. Ben Acha is the oldest of three siblings and lives with her family in the tranquil neighbourhood of Braness. As a teenager she would go out with friends only as far as the Cinema Roxy or to enjoy the view from McDonald's in Dawliz, always sure to return home by dusk.
Gullette says, 'Even though Chaimae is a good girl, a square really – she and Malika are two sides of the same coin. Chaimae is tough, morally, physically, mentally. She has integrity. She speaks the truth – even if it's against her interest.'
What interests Ben Acha most about acting is the opportunity it creates to 'reflect the reality of society.' By portraying a diverse set of women on screen, she has not only been able to more deeply comprehend the problems that confront Moroccan society, but has also felt empowered to open a public dialogue about these same issues.
Ben Acha selects her roles on the basis of whether she feels compassion for the character. She seeks to use her talent as an actress to reveal how women feel when pressed into difficult situations, such as her other award-winning lead role in 'Malak', in which she plays a naïve girl dealing with a teenage pregnancy.
Her best friend Ibtisame El Morabet says, 'When you see Chaimae acting, you feel a certain way. It's touching.' Upon hearing this Ben Acha immediately blushes. This genuine compliment, coming from someone she holds so dear, leaves a lasting twinkle in her expression. El Morabet continues, 'When I see her in Malika's clothes, she stands in a different way. It's not Chaimae anymore.'
Ben Acha has a special relationship to the character of Malika, having revisited the role and helped to define
Malika's character for the 'Traitors' feature. 'The role stays with you. It's hard to go back to yourself. I think I still sometimes walk like her.'
Another lingering residue of playing Malika is the rupture of Ben Acha's self-acknowledged naïvety. 'Before, when I saw people around Tangier, I wouldn't pay attention to what their business is. Now when I see someone I immediately have a sense of whether they could be trafficking – everything from their car and their physique, to the way they speak, hints at it.'
Ben Acha sometimes tries to channel the qualities that she admires in her fictional counterpart. 'I like Malika's force. I like how she finds solutions for her problems. It's important for me that women are strong, especially in Moroccan society.'
Still, what keeps Ben Acha from ever losing the idealism of her upbringing, or falling for the temptation of Malika's punk pursuits, is the actress's moral strength. 'Malika would go to great lengths to get what she wants. But I am more patient. I can do things bit by bit. I have limits that I would never cross.'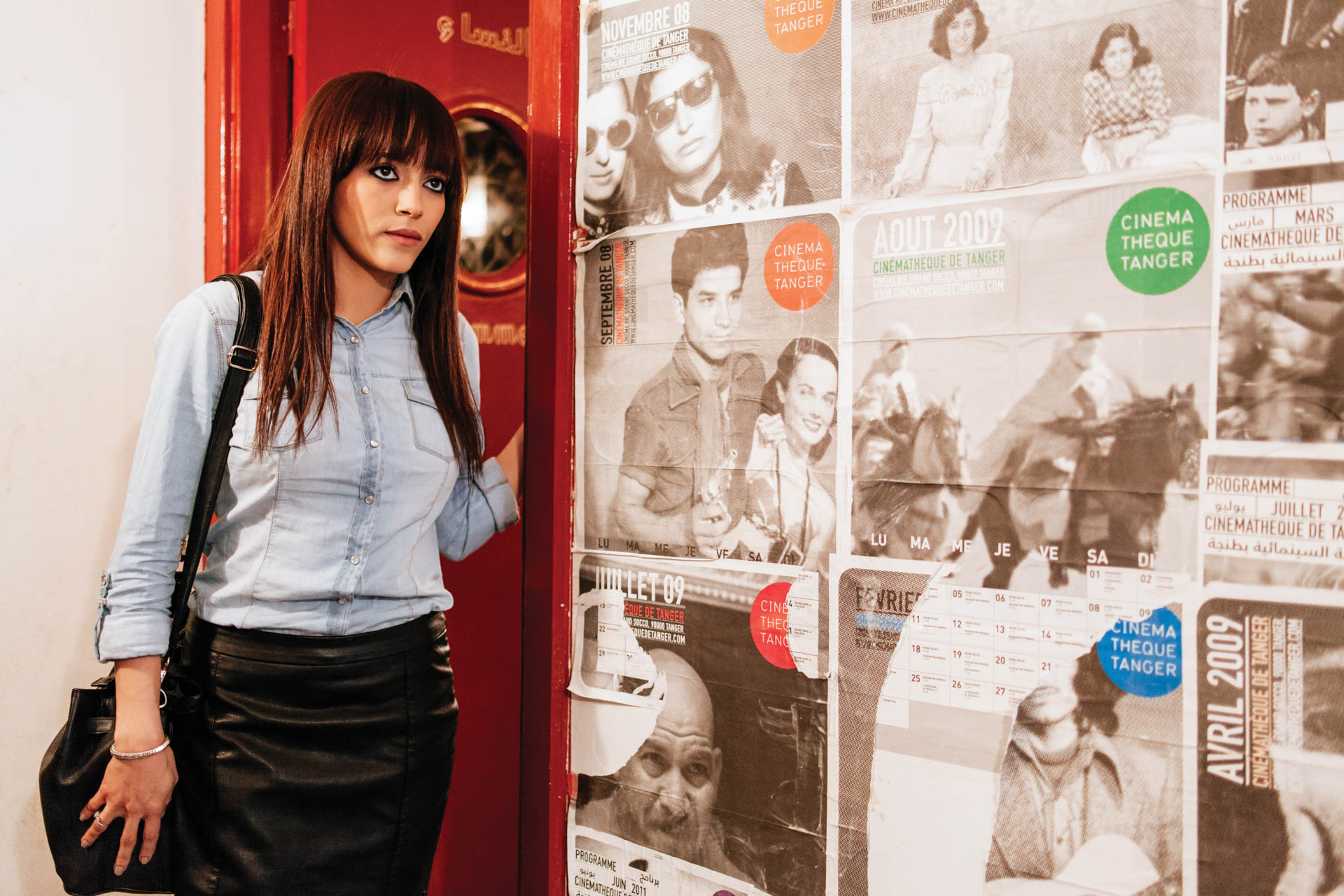 Ben Acha's recent rise to fame has not changed the way she lives. She rejoices in being home with her family after a long day of shooting. Her spare evenings are spent sharing tea and pastries with close friends in her favorite cafés or staring out over spectacular views of the Strait of Gibraltar.
As a child, Ben Acha aspired towards journalism and acting. Her present career offers her a means of accomplishing both sets of ambitions. 'As an actress, I can go straight to the point. I can send messages that are direct because they touch people.'
She credits much of the pain of her characters and their real life counterparts to 'a huge problem in Morocco that there is not enough communication between parents and their children. Young people begin to trust people outside of their own family. That's when they get into trouble.'
'The artistic domain, when used correctly, is not about making money or becoming famous. It can make real social changes – within the Moroccan household that we inhabit every day.'