There was something very beautiful about the world meeting in one place,' says Noura Al Sayeh, conjuring the romance of the world's fairs past. 'There was a 19th century idea of travel, exoticism and discovery' – an atmosphere, she says, that is profoundly lacking at Expo Milano 2015, the current edition of a long tradition of world's fairs.
As the deputy general commissioner of the Bahrain Pavilion, Al Sayeh's approach goes against the grain of neighbouring national pavilions, from the Kuwaiti sails and the Tajik tiling, to the LED Turkmen rugs and the Qatari woven baskets. 'We wanted to take an emotional approach to what a world's fair can be,' she says. 'Something a lot more sensory-driven than marketing.'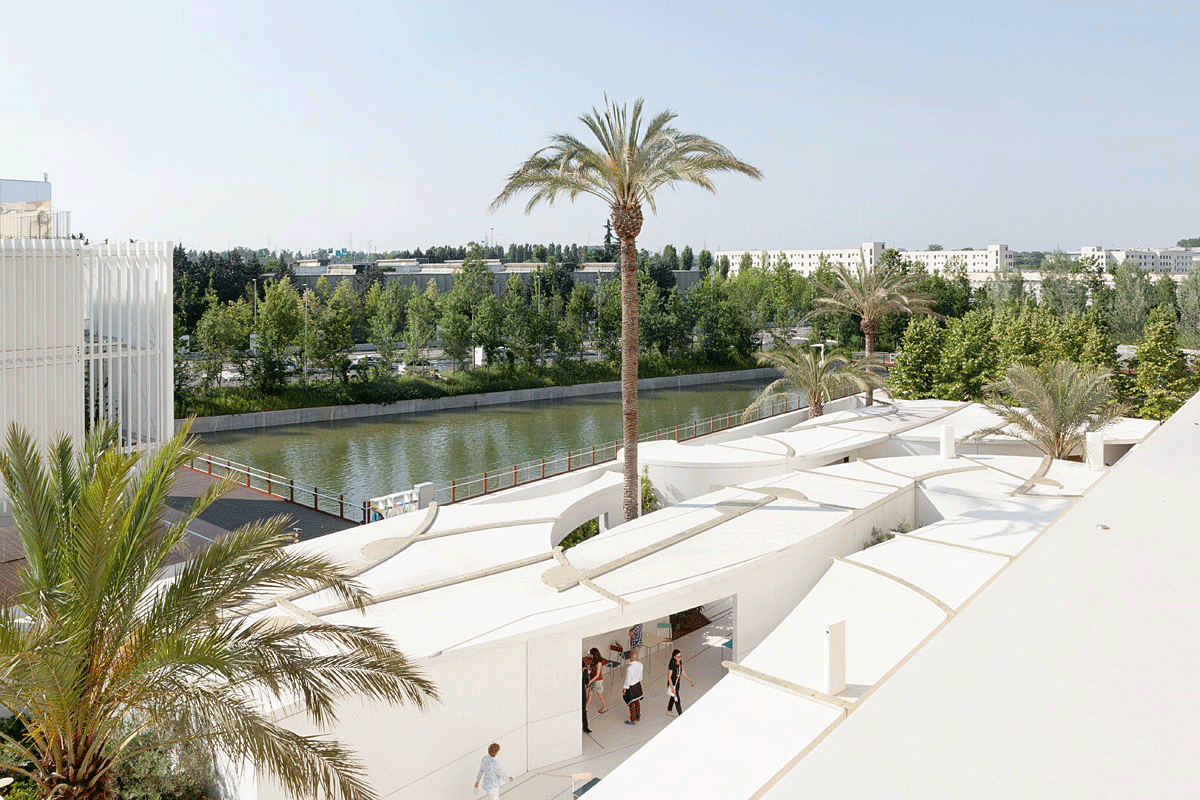 Bahrain's national representation, then, is neither trumpeted by marching bands, nor is it manifested in mascots and merchandise. Only a discrete gold sign affixed to a white concrete boundary wall announces its presence. 'It's a bit more subtle,' Al Sayeh says. 'A bit more discreet.'
'The outside is very humble,' explains Anne Holtrop, the pavilion's architect. 'I didn't realise that that's kind of the opposite of what people do at an expo, but it really works. When you're outside, the building is hardly there, and when you walk inside you lose all sense of being in the expo environment and all of its shouting.'
Inside, Holtrop's architectural layout gently leads visitors on a continuous walkway between curving concrete arcs, fragrant outdoor gardens, roofed interior spaces, and finally, through 'Archaeologies of Green' – an exhibition inspired by Bahrain's agrarian and archaeological past, and a response to the expo's theme, 'Feeding the Planet, Energy for Life'. 'Sometimes it's a space, sometimes it's a garden,' the architect says. 'You're never completely inside or outside. You're in a constant state of transition.'
Holtrop, originally from Amsterdam, was invited to submit a design for the pavilion as part of a competition arranged by Al Sayeh and her colleagues at the Bahrain Authority for Culture and Antiquities.
'This "shouting" has a lot to do with the clients,' Holtrop notes, 'most of whom are from the ministries of commerce, trade or tourism. They want to sell their country as a company, but with Bahrain, it's different. Bahrain wants to talk about culture and that, I think, is why its pavilion looks they way it does.'
With only one year's time separating the project's commissioning from the expo's opening, Holtrop was pressed to achieve the pavilion's research, design and build stages. During the yearlong process, Holtrop frequently visited Bahrain (trips he enjoyed so much, he set up a practice in Manama). During his research, he discovered various myths surrounding the island, such as it being the Garden of Eden and the land of a million palm trees. He also took inspiration from archaeological sites and the Barbar Temple, with a particular focus on its ancient Dilmun construction techniques.
Built to Holtrop's blueprint – an 'abstract line drawing', as he calls it – the pavilion's prefabricated concrete parts are stacked atop one another and held together by only the weight of gravity, an approach taken from the old temple.
Although Holtrop admits to having 'never heard' of Bahrain prior to his work on the pavilion, his architectural plan succeeds in its ability to create an illusion. For the country's pavilion, physical boundaries correspond with emotional stirrings that are provoked by subtle design hints.
'It had the most poetic interpretation of the theme,' says Al Sayeh on the selection. 'It was presented in a way that the landscape and the building were so strongly intertwined that you couldn't really separate one from the other. In that sense, it's not really a rational decision whether you like it or not – it works a lot more on emotions and impulse.'
It's not really a rational decision whether you like it or not – it works a lot more on emotions and impulse

نورة السايح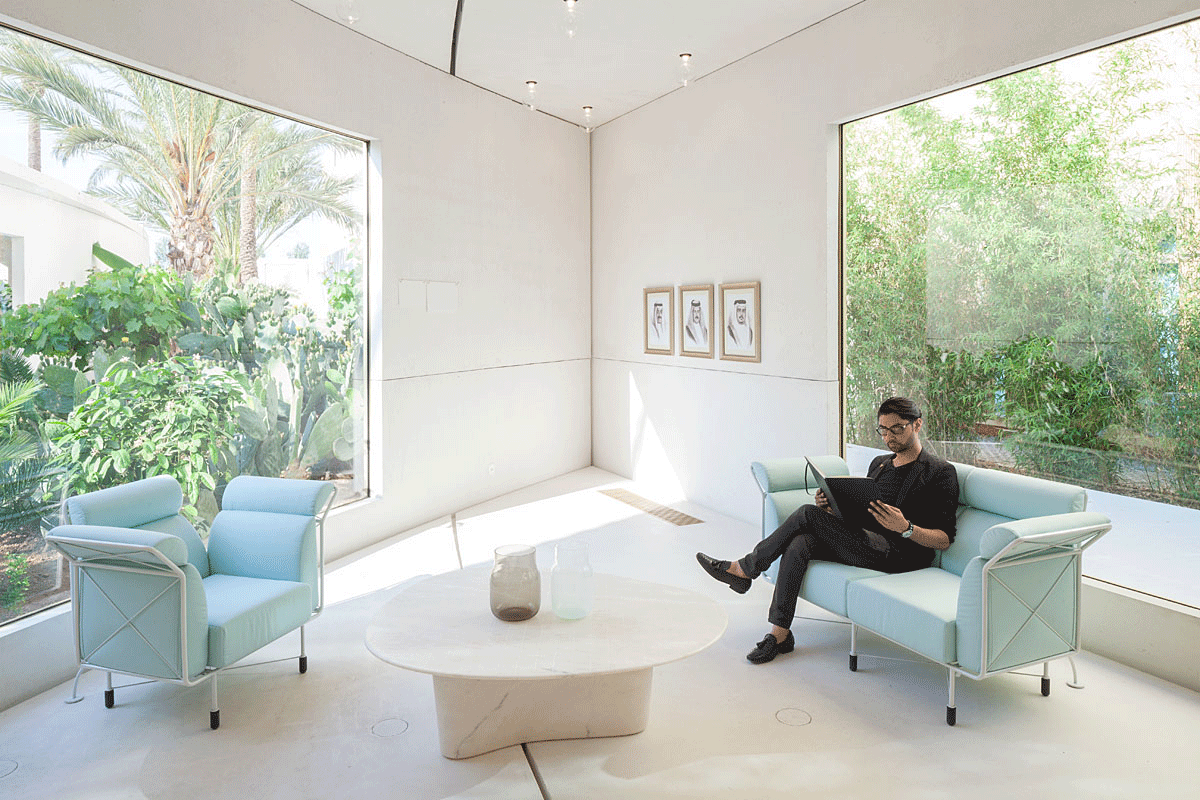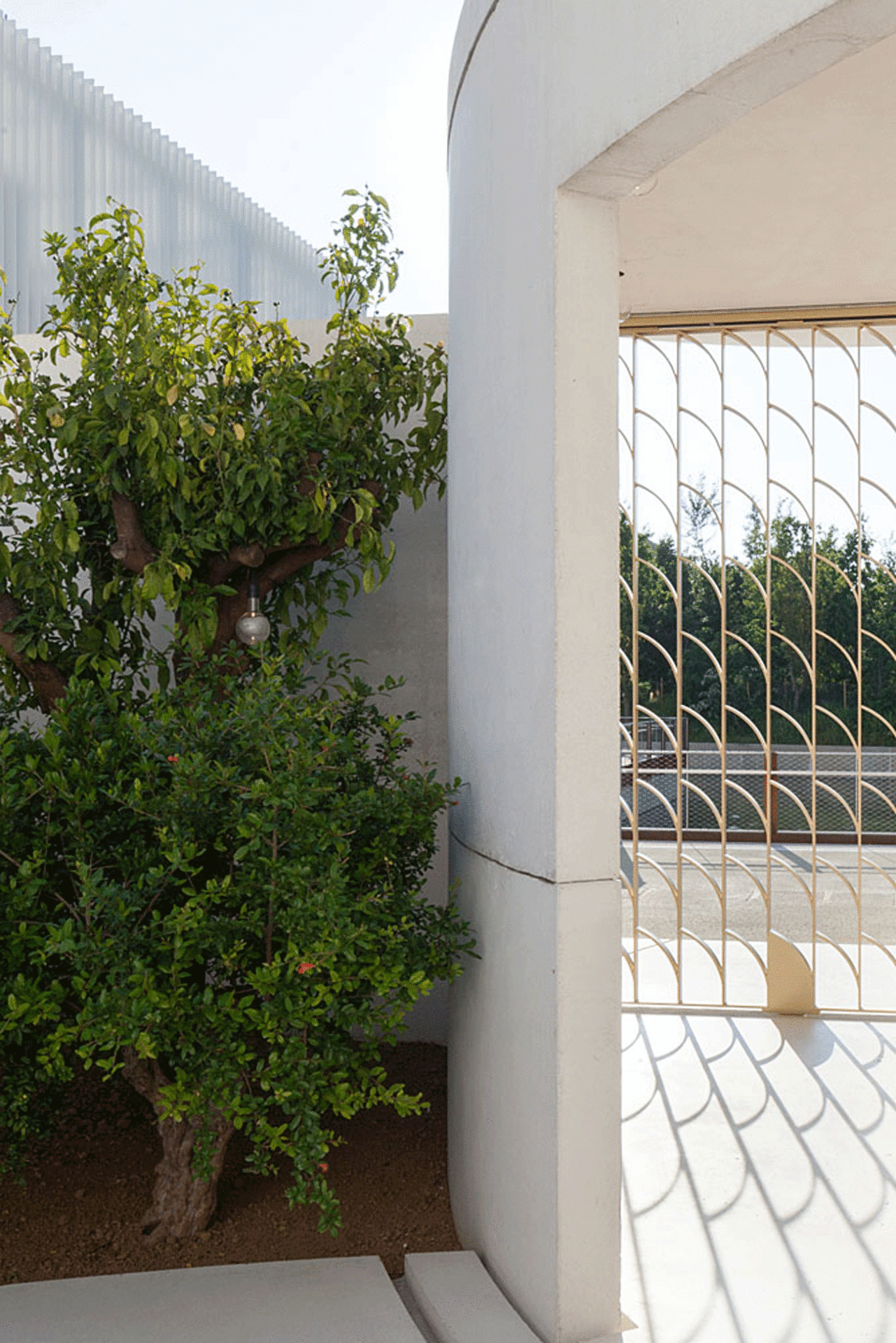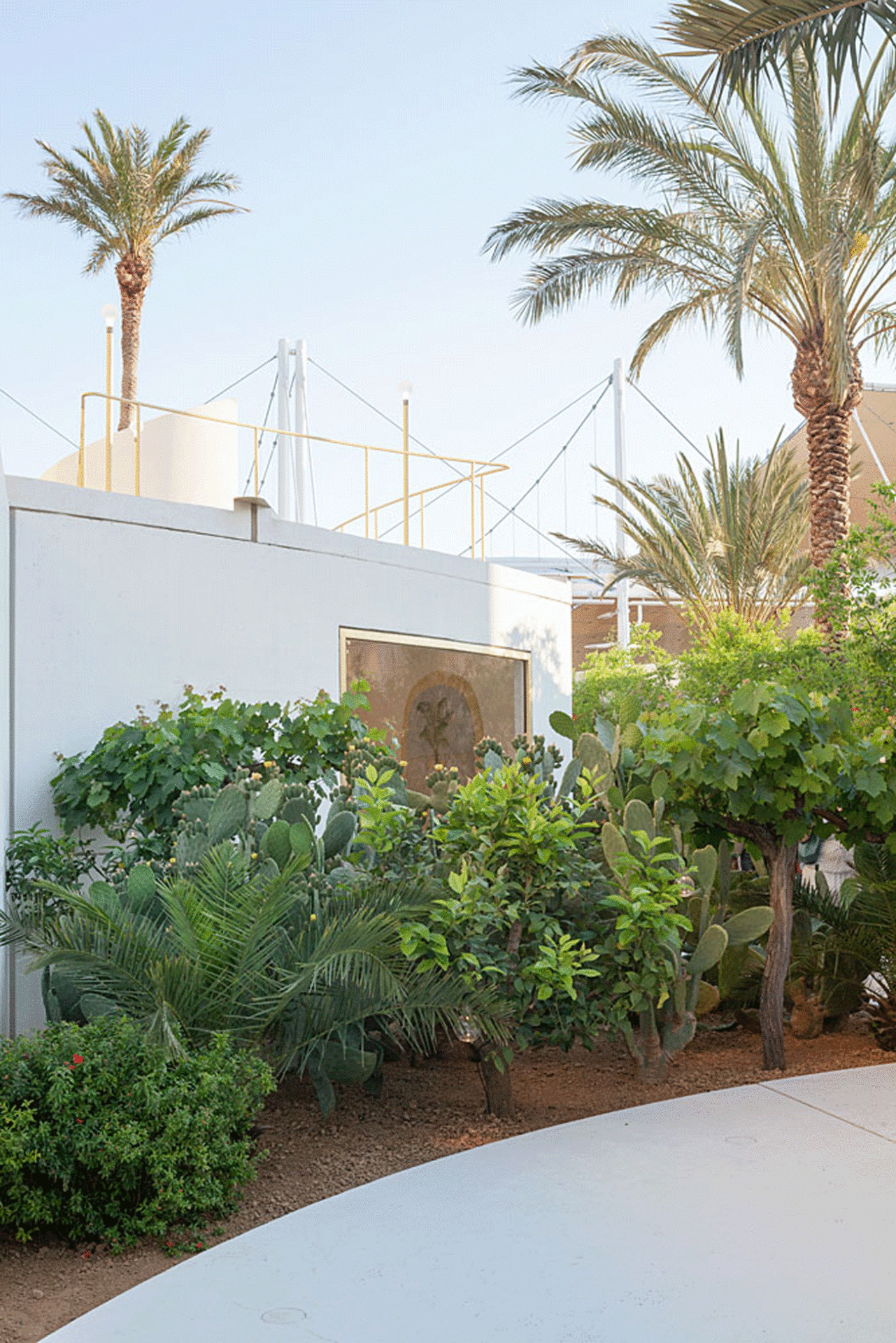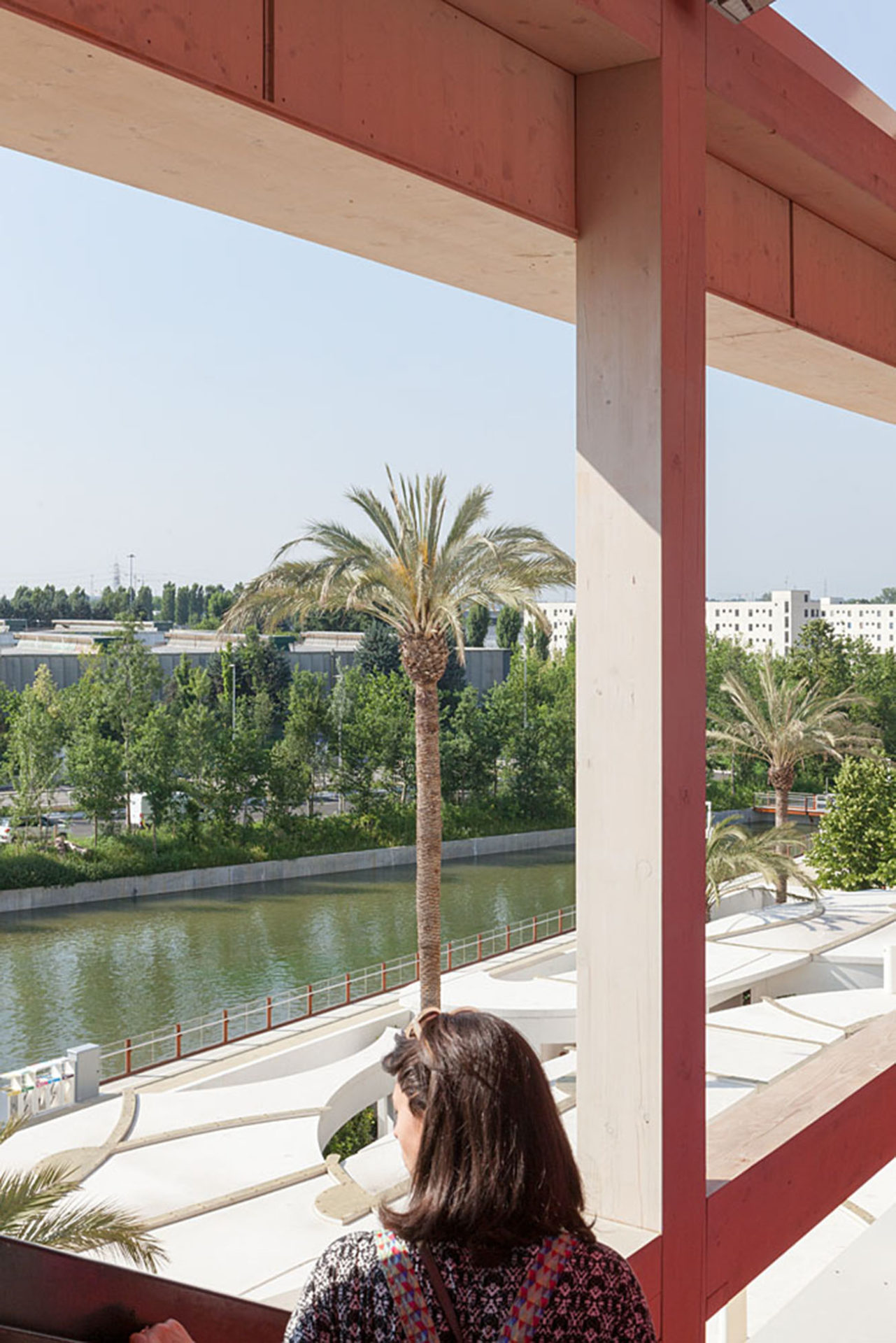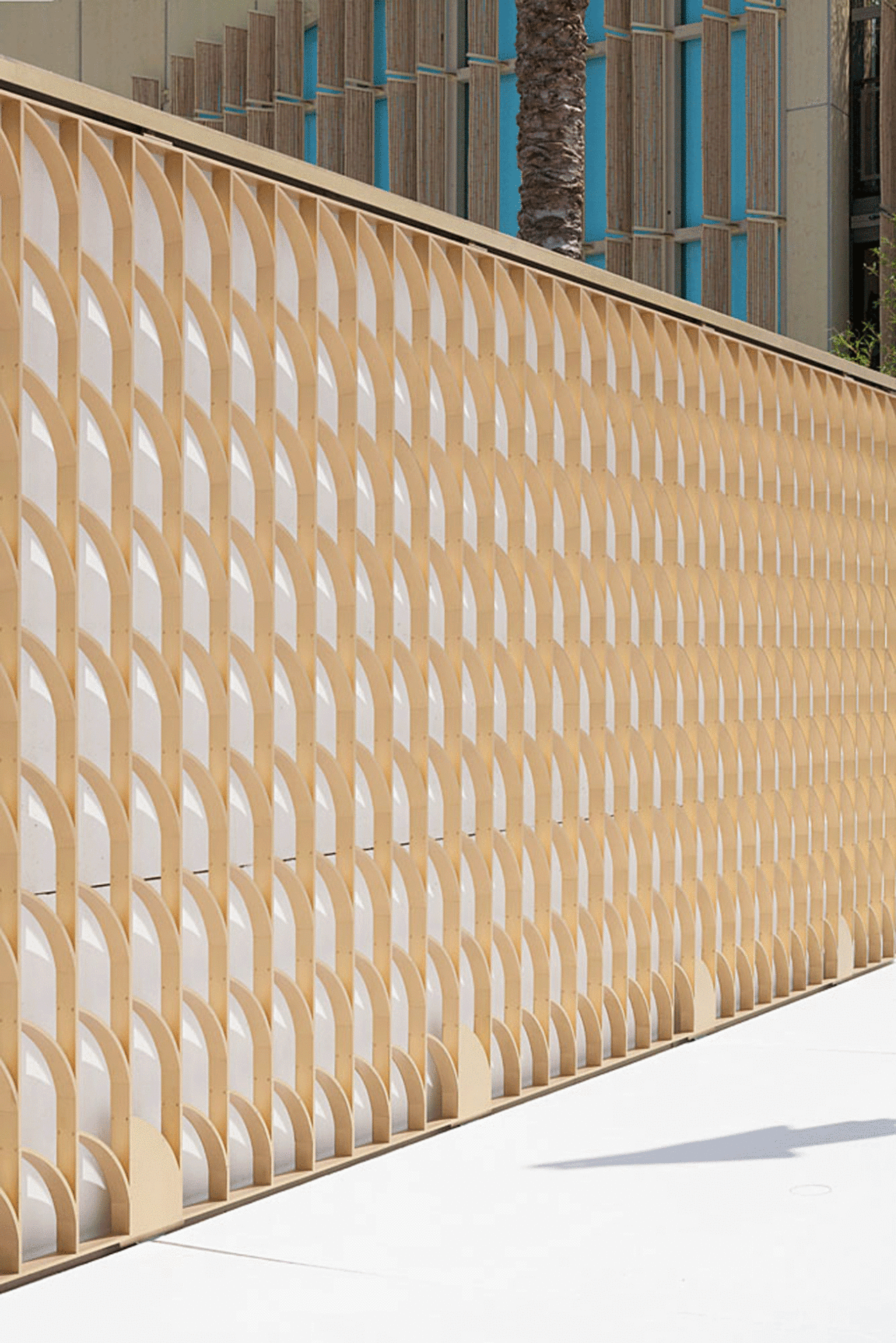 For its exterior spaces, Holtrop collaborated with Dutch landscape architect Anouk Vogel to curate a series of 10 gardens featuring plants native to Bahrain. 'It's a nice mix between Mediterranean trees, including olive, grape, lemon, and sub-tropical trees, like banana and papaya. When you walk on traditional farms in Bahrain, you see this mix,' Holtrop says.
Vogel selected plants that would flower at different times during the expo's six-month run. Upon its grand opening in May, the lemon trees were in full bloom. 'You could smell the pavilion 10 metres before you approached it,' recalls Al Sayeh. 'I thought the cleaning crew was there. I asked, "What's this smell? Are they cleaning?" But it was the lemon blossom. It was beautiful – a really sensory experience.'
Despite there not being any overt references to Bahrain, at least not architecturally, visitors leave the pavilion feeling, as Al Sayeh had hoped, with a deeply-rooted understanding of the nation. 'It's abstract in a certain sense, but we've been really happy with the responses,' she notes. 'Feedback from Bahrainis themselves has been really nice. A lot of them have a strong sense of pride, not just in their country being represented at the expo, but also in the way that it's being represented.'
'When Sheikha Mai [Bint Mohammed Al-Khalifa, Bahrain's Minister of Culture] was walking through the pavilion,' Holtrop adds, 'she said that it really breathed an atmosphere that she related to and that she recognised, but that was also completely new.'
In fact, the Bahrain Authority for Culture and Antiquities is so pleased with the pavilion that, when the pavilion's installation in Milan ends, the various components will be dismantled – thanks to Holtrop's careful design – and shipped to Bahrain, where it will function as a botanical garden in its spiritual home.
'If you make something,' Holtrop says, 'then make it permanently.'