Sat in Dar al Mussawir, one of the many cafés the Beirut-based members Jenny Gustafsson and Micheline Tobia have made their Mashallah office, there's only the glow of the laptops connecting the core members of the collective across countries. People sip on their afternoon espressos in the brightly lit café full of hipsters and creative-types, completely unaware that in synch with the buzz of background conversation these girls are working on what is fast becoming one of the most important alternative news portals in the region.
'It all started very casually. We were just chatting over coffee' Gustafsson says as she explains how she co-founded the alternative online news platform, Mashallah News. The idea was conceived when freelance journalists Gustafsson and Isabelle Mayault – hailing from Sweden and France – became frustrated with the misrepresentation of the Middle East in the media. 'We found that conventional coverage was quite narrow minded,' Gustafsson says. 'In terms of what exists globally it is quite stereotyped and more concerned with conflicts, regimes and politics rather than human stories.'

The idea to provide an alternative news source soon expanded as they involved Beirut-based activist Tobia, Geneva-based graphic designer Ismael Abdallah and Istanbul-based French journalist Clément Girardot. Together they built an alternative news network linking cities across the Middle East, Turkey and Iran. Holding editorial meetings over Skype, editing over email and sharing experiences of the region via Gmail chat, their first fundraising party at Beirut's Zico House in February 2011 was the first time the collective met face-to-face.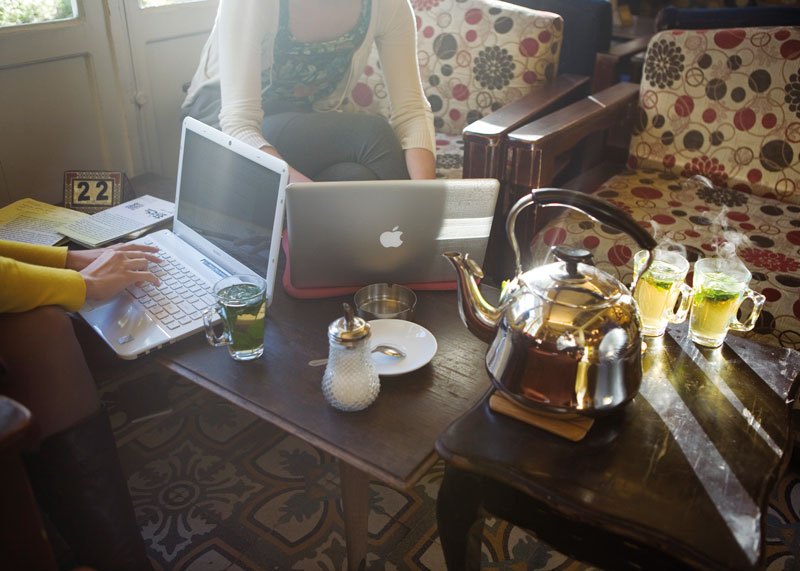 What started as a small collective of journalists, bloggers and activists 'whining' as Tobia puts it, soon grew to involve over 30 collaborators, with the website peaking at 11,000 visitors during December. They have hosted their own conferences and were the winners of a best e-content prize at the UN World Summit Youth Award, a four-day meeting held in Graz, Vienna.
The five core members remain volunteers – dedicating several hours a day in between studies, full time jobs or in the case of Abdallah running an entire graphic design company – but as the site, which currently publishes around four articles a week, becomes more sustainable Tobia and Gustafsson hope to go full time.

'We realised that we have different experiences from what we could read' Tobia explains, a political science masters student. 'Those covering Beirut go to the best hotels and nightclubs that less than one percent of the population go to. People end up thinking this is what Beirut really is.' The report on Beirut in CNN's 'Future Cities' is a perfect example that saw Richard Quest centering on Lebanon's hedonism and spotlighting VIP rooftop clubs only accessible to the exclusive few. '99 percent of the rest of society is not represented,' Tobia continues. 'It's the same for the rest of the region. I was brought up in Saudi-Arabia, my experience was completely different from all the coverage focusing on al-Qaeda.'

With a literal translation of 'God has willed it', the collective's name Mashallah is a familiar expression with a number of interpretations. 'Mashallah is a very positive word' Tobia explains and one with a 'shared meaning across the region'. 'Some people might take it wrongly' says Tobia talking about speculation into the religious nature of their name 'but when you look at it more closely it's just a very optimistic exclamation'. Gustafsson continues: 'it's also something unexpected that surprises you positively. That's the essence we want to convey'.

Mashallah News is subversive in nature with the site showing a particular interest in alternative music, underground cultures and the arts but there's also a clear social morality tackling everything from Gaza's waste water crisis ('The Excrement River of Gaza') to sexual harassment in Egypt ('Dead Woman Walking'), migrant workers' rights and homosexuality.
So what is their niche? Besides the non-sensationalist style of their writing there's a common interest in reporting on a more personal level. 'It's interesting how you can tell a very big story just from one person.' Gustafsson explains. 'We're able to find these people from the underground culture that people don't usually talk about,' adds Tobia.

Perhaps one of the reasons for the success of Mashallah is their timely beginnings. Forming just before the Arab revolutions in November 2010 a 50-strong network of contributors scattered across the region were able to document what was happening and provide a platform for those looking for an alternative. With the voice of the revolutions perhaps most clearly expressed online, there's been a growing hunger for alternative media since they started. 'People feel freer to express themselves,' says Tobia. 'We've had stories from Egypt and Gaza, people wanting to share what they've been experiencing.' 'What to Wear to a Revolution' is one story both Gustafsson and Tobia speak of particularly excitedly. Published in their first print mini-newspaper in the summer of 2011 the article perfectly captured the first moments of the Cairo revolution. Written by Amani Massoud, the personal and self-conscious account of the first protests in Cairo questions what is suitable attire for a revolution, as the writer transforms from curiously skeptical to active participator.

The relevance of Mashallah's cross-country platform became particularly apparent following the domino effect of the Arab revolutions. 'There wasn't really a regional platform there before,' Gustafsson tells me. 'What we really learned with all the revolutions is that there's this sense of inter-connectedness. I think we filled a gap in terms of preparing coherent coverage across these scattered cities that still have a connection.'

Maintaining their independence means Mashallah are able to publish the stories they find interesting. Gustafsson explains 'I think to combine creativity and freedom and find stories that you really believe in can be very frustrating for most freelancers.' Certainly, remaining autonomous they don't have to worry 'whether it will sell or not'. 'We're trying to cover the stories that come naturally,' Gustafsson continues. 'It's connected to the fact that we're not for profit. If we believe in something we publish it.'

Mashallah's ideas don't start and end with their online platform. So far, they've already been particularly active with their external activities, including a conference in Istanbul,and a week-long program on alternative media in Beirut. They have ambitions to grow and to become more 'socially connected', organising workshops on citizen journalism, alternative ways of reporting and extending their arm to social debate. 'There are underground artists, photographers and musicians that we'd like to do something with,' says Tobia.
Currently Mashallah are focused on creating a new multimedia platform, 'MashaLab', allowing contributors and viewers to share their writings more interactively. Amazingly, so far their funds have been accumulated from a couple of fundraising parties, the odd private donor and from self-handout's – 'Whenever we have some spare money we donate ourselves $100', Tobia laughs. But the collective are just as creative when it comes to finding funding, recently gathering $3000 from 'Indie Go Go' (indiegogo.com), a crowd-funding campaign allowing donators to support the projects they find most interesting. Mashallah are currently grappling with a decision to take outside funding or sell online advertising; a desire to become more sustainable and grow is countered by an intention to stay fiercely independent.

With a change in the way we consume news and a move from the dominance of conventional newspapers towards individual opinion and blogging, Mashallah's ambitions for an interactive, user-sharing portal of citizen-style journalism and alternative reporting may just be a step towards the media of the future.