Jordan and Egypt, in particular, have made strides combining history and environment. The UAE, in its over-the-top style has invested billions in the Bani Yas Island reserve. But it is in Lebanon, where creative entrepreneurship and national pride have overcome so many challenges, that a unique brand of eco-tourism has taken root, primarily led by a small number of passionate business-owners. Don't expect eco-tourism in Lebanon to follow the lead of other countries with strict environmental policies and large numbers of foreign tourists. Here, the fun-loving and sociable combine with atypical geography, cuisine and sports. Travellers won't find pre-packaged tours, but rather a slice of Lebanon not often seen or promoted.
Eco-tourism has long been accepted as a means to blend environmental conservation and tourism. Some countries, like Costa Rica and Malaysia, began to implement strong eco-tourism programmes in order to protect their fragile environments and preserve local traditions, while earning money at the same time. Several trade groups have set minimum standards for what can be called "eco-tourism", relying on several tenants:
Minimising the impact of tourists on the local environment
Building environmental awareness and respect among travellers
Creating positive benefits for tourists and host communities alike
Providing financial benefits for conservation as well as local communities in poverty.
Lebanon does not, at first glance, seem a likely candidate for eco-tourism: its small size and highly urbanised social landscape has left little of its once pristine forests and beaches without haphazard development. Its tourism sector largely comprises Lebanese diaspora visiting family and visitors from other Arab countries seeking a more permissive party scene than what they have at home – hardly your image of eco-tourists. But on closer inspection, the country's varied geography puts some of the region's highest peaks – with forests, caves, and rivers – within easy reach of Beirut's nightlife. These almost alpine scenes defy visitors' notions of the Middle East and provide a welcome respite from travellers from the region's desert- dominated landscapes. The result is that eco- tourism is geared towards Lebanese themselves and thus doesn't feel touristy at all.
Lebanon has several protected areas, most of which are in the mountains. It's widely acknowledged that the government needs to do more, but important steps have already been taken. Several companies have emerged in recent years to take advantage of these natural treasures. Many of these are the personal passions of Lebanese who want to contribute to preserving the country's beautiful, natural resources and share them with others. In addition, the US, Italian, and Swiss government's aid agencies have been supporting the sector as well. USAID supported several initiatives to bring the Lebanon Mountain Trail to fruition.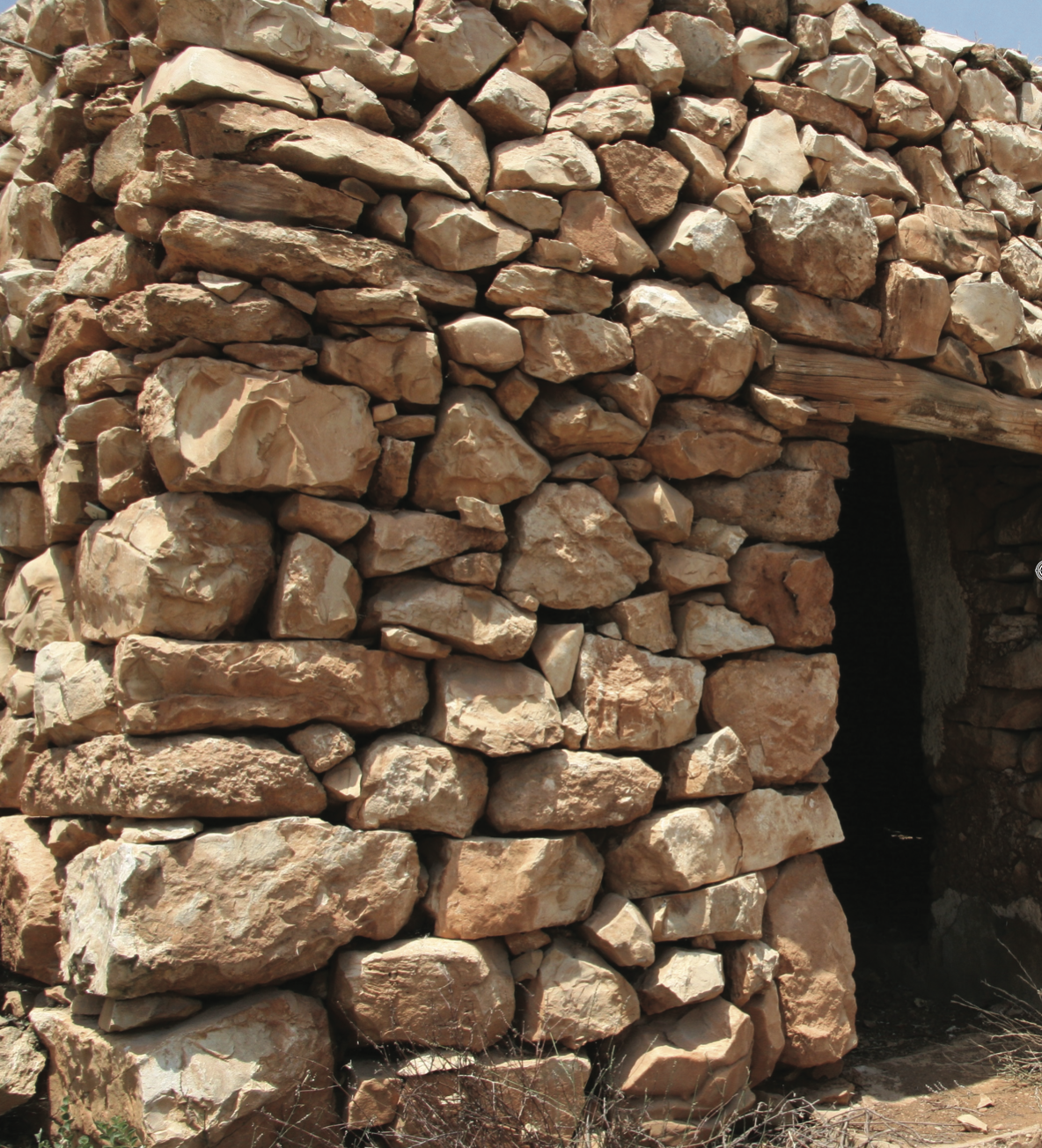 It runs the length of the country and connects all regions along a 440km trail that passes through 75 towns and villages from the northern to southern borders. The trail promotes environmentally and socially responsible tourism, and is the first long distance hiking trail in Lebanon. The Italian government as well as the Swiss Agency for Development and Cooperation likewise supported a series of eco- lodges, which are made of natural products and use indigenous architectural styles.
With the sector kicking up and the summer season kicking in, there is no better time to appreciate Lebanon's natural environment.
brownbook recently accompanied Blue Carrot Adventures on an expedition to Koumaa, in the cedar-dotted mountains near the northern border with Syria. According to its custom of not repeating expeditions each year, this trip took a group of about 40 people into the region known for having over 10 million trees of over 50 species.
"We are not here by accident," explains Bechara Mezannar, director of Blue Carrot. "All our expeditions are carefully planned according to the best season to visit. For example, here in Koumaa, we are here because the foliage and flowers are blooming and the coldest part of the winter has passed. We will be organising other trips later in the summer, but in places where the natural beauty and the comfortable of our hikers is at their best."
Hikers on the trip came from all walks of life, from university students to businessmen and women seeking a respite from city life. After travelling nearly three hours in the mountains high above Tripoli, we arrived at an area packed with cedars and nearly untouched.
Using only local guides from the areas of each expedition, Blue Carrot encourages a deep understanding of the area. Our guide, Ziad, joined the group from his village and began to explain the subtle differences between Lebanon's famous cedars and other similar trees. As hikers walked for five hours along barely used trailers and crossed several ravines, Zaid explained that the high elevation here provides for almost alpine terrain and that the area has long been known for offering respite from the summer heat. In fact, the nearby mountains are covered in snow year round.
Samer Akl, a first-time hiker from Beirut, says: "It felt more like an expedition than a hike. Even though our country is small, it still contains many places that we Lebanese are discovering for the first time."
Interestingly, city life and sectarianism keeps many Lebanese from visiting all the areas of their own country, despite their accessibility. While providing all the standard benefits of eco- tourism, such expeditions also offer Lebanese the chance to discover corners of their own country, creating bridges between disparate communities.
Blue Carrot was founded by a former employee of one of Lebanon's largest tour groups. Bechara Mezannar set out to give people a more unique experience and a chance to get closer to the treasures of Lebanon.
"People have an image of Lebanon being a destination for clubs and show-off beaches, but we set out to create an experience closer to nature and more real. You'll never feel nervous or stressed out when you are in a place like this," he says.
During the high season, most eco-tourism companies organise two or three expeditions per week. However, they are all carefully chosen according to the season. In some cases, it is when the flora is in bloom, in others it is the highest elevation to avoid the summer heat on the coast, or in still others it is when the rivers are at their highest for rafting.
Lebanese NGO MADA, with initial support from the Italian government, helped to develop a series of eco-lodges, including the Al-Kwakh, in the Hermel area of the northern Bekaa Valley. Known for its moon-like landscape and being one of the most pristine areas of Lebanon, Hermel is an ideal location for eco-lodges. The lodges are constructed according to traditional methods with indigenous materials. Electricity comes from solar panels so as not to draw from the region's already limited grid. The result is authentic and rustic in the extreme, with guests easily able to imagine themselves in the era before cars, smog and concrete apartment buildings.
MADA project manager Gilbert Moukheiber explains: "After some training, the eco-lodges are now run by a women's cooperative in the village. By offering a stay in a guesthouse and providing some amazing Lebanese feasts, the eco-lodge tourism is generating income not only for the women but for the whole village. This other-worldly area is unfortunately one of the poorest regions of Lebanon, and this type of tourism is helping to alleviate poverty while not being disruptive to the landscape or the culture."
Currently, the vast majority of Lebanon's tourists are not seeking eco-tourism, but Moukheiber is beginning to notice a change. "Many Lebanese and expatriates living here are looking to discover their country, to move beyond the cliché of bars and nightlife in Beirut."
Recently, the eco-lodges joined the Tarhal network of alternative lodges and a network promoting solidarity tourism around the Mediterrean. Initial bookings and interest from foreign travellers are encouraging.
"Most tourists from the Gulf are looking for adrenaline rushes and to test their limits," explains Exit to Nature co-owner Aoun Abi Aoun. Although only about 10 per cent of its clients are from the Gulf, Exit to Nature has developed a knock-your-socks-off menu of adventures that combines eco-tourism, culture heritage and the ability to test your limits. Their motto is nature accessible to all, but the caveat is that clients need to be ready to challenge themselves to discover more about Lebanon and themselves.
Exit to Nature offers tailor-made expeditions based on the client's request and interests. There are no organised tours, and nothing is pre- set. Clients tell Exit to Nature they want a sea adventure, a mountain adventure, or whatever fits their interests and Exit to Nature develops a thorough, personalised itinerary just for them. Although it seeks to make nature accessible to all, its signature programs usually include some type of physical challenge. Expeditions most often include rock climbing, caving and off-roading. For its clients, it's not enough to merely walk in and experience nature, but to confront it head on.
In all its expeditions, Exit to Nature works with local guides who incorporate some type of cultural learning. Its trained staff combines brunches outdoors and hikes, for example, with visits to the country's monasteries and other historic and cultural sights. The hermitage at Amchit, located in a mountain-side cave only accessible by a series of wooden ladders, is a favourite among clients. In this way, the rich history of Lebanon unfolds while clients enjoy the natural settings. These expeditions also include meals cooked by and eaten with local communities, usually served on mountain tops or other locations with inspiring views. Remember that this is Lebanon, so you can't just be a guest and look at nature without being offered a meal. Geography, nature, sport and culture all go hand-in-hand with Exit to Nature expeditions, and the result is memorable moments.
Vamos Todos is an eco-tourism operator as well as a club, counting more than 3,000 members. As such, most of their trips include repeat clients so it feels more like hiking with friends rather than a tour with strangers. Mark Aoun says: "We even had two weddings out of couples that met on our hikes."
Aoun has been hiking for 17 years. He founded Vamos Todos to go beyond merely hiking – to create a club that builds connections and forges deeper bonds with the communities hikers visit.
Following its philosophy of creating social connections through nature, Vamos Todos maintains robust relations with NGOs and women's self-help groups in the country. In some cases, when the hikes pass through villages, there is the opportunity for hikers to buy local produce like herbs, honey and organically-grown food, thus supporting local income generation. In other cases, the group has combined its hikes with cleaning up beaches and other nature reserves. Vamos Todos has even collaborated with UNDP to support a reforestation project by including tree-planting during a rest stop on a hike, and has participated in promoting the USAID-funded Lebanon Trail, which runs the length of the country. The goal is not only recreation but to leave something back to nature after learning to appreciating it.
"Our members are highly committed to the environment in Lebanon, and they've grown even more so as a result of our expeditions to some of the most beautiful places in the country," explains Aoun.
"In early July we organised a trip to clean up the beaches in Tyre. You wouldn't think that Lebanese would volunteer to clean up a public beach, but in fact the idea for the trip came from our members because they were asking for ways to do more to keep their country beautiful."
Eco-tourism is about discovering places and contributing to them rather than leaving behind a negative impact. Eco-tourists in Lebanon may ––find that Lebanon contributes to them as well.